Regain the freedom of your home
The Acorn 180 Curved Stairlift
With the Acorn 180 Curved Stairlift, there's no longer any need to compromise your independence and struggle with the stairs in your home. You can be proud to join the thousands of people all over the world who enjoy independent living at home, thanks to the Acorn 180.
The Acorn 180 has a built-in soft start and stop facility, and you can be sure that your stairlift
is always ready for use thanks to the integral rechargeable battery pack, even in
the event of a mains power failure.
The Acorn 180 fits practically any curved staircase, and its slim, attractive rail fits to your stairs, so there's no damage to your home. It has been designed to include a wide variety of comfort and safety features, to provide you with many years
of safe and reliable enjoyment of your stairlift. To ensure your lift is simple and effortless to operate, the Acorn 180 has also been designed with ease of use and comfort in mind.
The unique self-levelling transport system
moves the stairlift along the low profile rail and automatically adjusts the speed and level of the seat when moving round corners. The stairlift's electronic programming ensures optimum performance at all times, providing a comfortable ride
When not in use, the Acorn 180 can be folded away; its slim profile and unique inside parking ability ensures that the staircase is not obstructed, allowing other members of the household to use the stairs as normal.
SPECIFICATIONS
Acorn Stairlifts Fault Codes
SPECIFICATIONS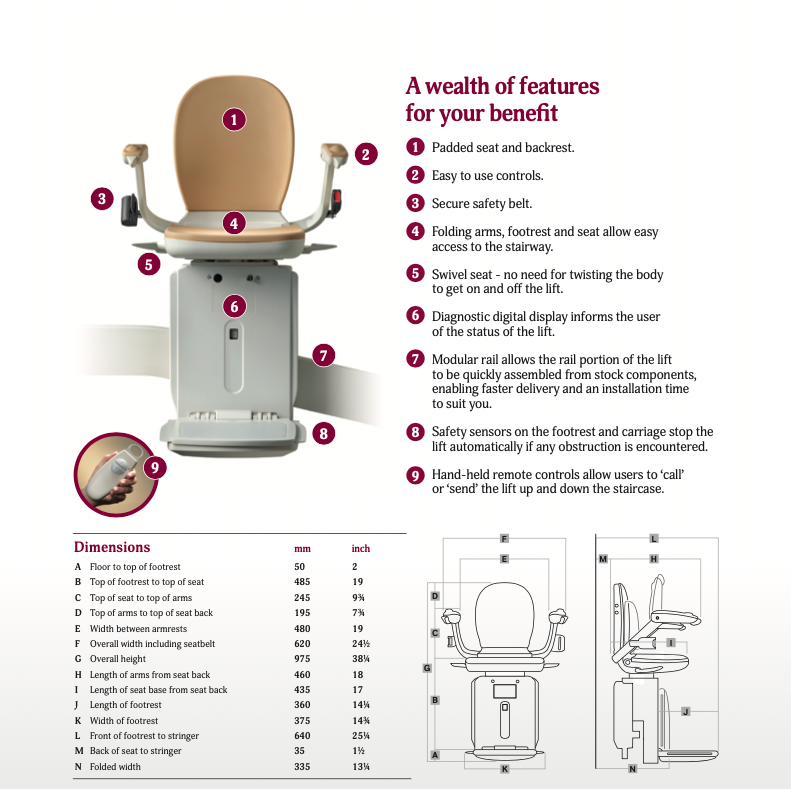 Acorn Stairlifts Fault Codes